We all know about tik-tok and how soon it has taken home in the heart of the people but due to some reasons it has been banned a few days ago (29 June 2020) in India and Tik-Tok users and fans got a big shock because of this.
Due to tik-tok, the talent of the people was not only improving but with them many offers were also received but its closure also caused a lot of damage, people had become so used to it that it was included in their daycare.
Therefore, many alternative options were being found in India, but they were faded in the competition of tik-tok.
YouTube, finally announced the YouTube shorts on 14th September in India. This feature will be prominently highlighted within the YouTube app on Android and will expand to iOS in time.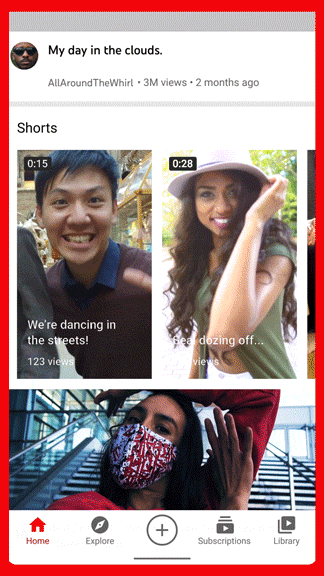 Let's talk about YouTube Shorts
"Shorts is a new short-form video experience for creators and artists who want to shoot short videos"
Now users can start recording a Youtube Short with the new create icon that has been prominently placed in the YouTube app for Android.
There are very few features yet, but this is enough for now. By the time many more features will be added to the response of peoples.
How to create it
You can tap the "+" icon on your android app then select Video. If you see create a short video then you have access to the Shorts camera and make a video, which has features like stringing multiple video clips, speed controls, times, and adding music to clips.
Highlights
You can create and upload videos of 15-seconds or less.
You can edit videos with a number of creative tools.
You can add music to videos from YouTube's library.
Features like speed, timer and countdown, and a multi-segment camera.
At the moment, the Youtube Shorts have been launched with fewer features. Going forward, according to the response of the people, more features will be added to it, which will make it better.
This is the good news for those who are big fans of tik-tok.
Now just wait to see how much appreciation do users give to Youtube shorts. If you have not done it till now, then do it and tell people about it and tell us how you liked this feature.
Read also: 5 best video hosting sites
If you liked this article, then please subscribe to our mailing list for latest posts and updates. Join us on Twitter and Facebook for regular updates.