Do you own a business or product and looking for a great email marketing tool to generate leads?
In today's time, a huge number of leads can be generated from online marketing. There are many online marketing tools available but here we choose email marketing.
In this article, we will talk about Convertkit, an email marketing tool, which helps you to generate leads for your business.
Let's start
Convertkit is an email marketing tool to finds your audience and turns them into true fans, and earns a living as a creator with their audience building and email marketing software.
Although, It offers customizable sign-up forms and landing pages which is helpful to bring in more email subscribers, why this tool is important for us?
So let's find out some of its features that make it better.
Read also: SEMrush: an all-in-one digital marketing toolkit for growing your business
Read also: Demio: A webinar tool and effective solution for your business
Features
Email marketing
It helps to own the relationship with your audience & grow your business by sending simple, beautiful emails and stay out of the spam folder with ConvertKit deliverability. It has automated email funnels that helps to grow your email list with sign-up forms and landing pages and also you can organize and understand your subscribers.
Free landing pages
You can create free landing pages by ConvertKit for your creative and big ideas. All templates are fully responsive it means you'll have a perfectly formatted landing page that can easily be viewed on any device.
So keep creating better landing pages!
E-commerce tool
Selling digital products in the digital market is not as easy as we think, but ConvertKit provides some great tools so that it can be made easier where you can create customizable product pages.
Email template
ConvertKit provides awesome email templates that make email editing simple and you can create new email templates with few clicks without touching HTML which is fit for any device without any limits.
Email signup forms
There is a beginning point to the beginning of every journey that allows you to create a new, deeper level of communication with your audience. Initially, an email signup form can be used that helps to increase business leads. We can use custom signup forms for your brand to collect custom data.
Automation
ConvertKit provides automation tools by which you can send targeted content to the right people at the right time. It has simple automation rules and industry-leading integration partners which makes your work very easy.
Creator pro
It has a creator Pro plan which provides advanced features like subscriber scoring, powerful deliverability reporting. The best part of it you can change a URL after an email is sent with creator pro.
Integration
Convertkit gives easy integration with many platforms like Shopify, Crowdcast, Teachable, etc.
It was all about some special features that make it better and motivates us to use it.
Upcoming Features
Apart from above great features, there are many more awesome features are also coming, which have no date but work is going on them. They are –
Recurring payments
Supporting taxes
Purchase graph enhancements
Palettes in landing pages
Support repeat sequences
More date options in Visual Automations
New Visual Automations templates
Provide Social media links for emails and landing pages
Along with the features, we also need to know if it is worth its price or not.
So let's discuss the price too.
Pricing
Convertkit comes with 3 affordable plans i.e.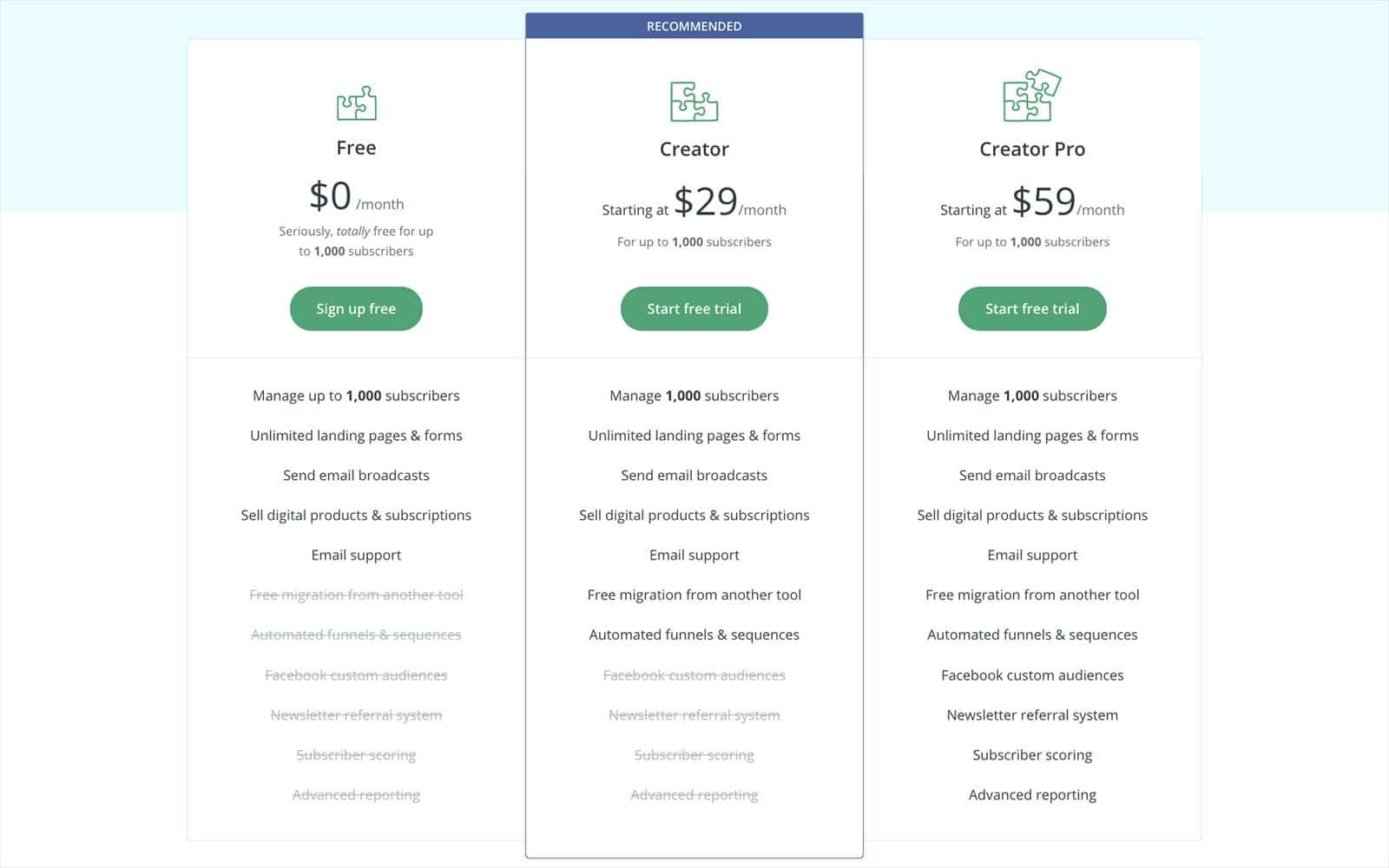 Free Plan
Price- $0 /month (monthly billed),$0 /month (yearly billed)
This plan is free for up to 1,000 subscribers and it includes unlimited landing pages & forms, send email broadcasts, sells digital products & subscriptions, and email support.
Creator Plan
Price- Starts from $29/month (monthly billed), $25/month (yearly billed)
This plan is for up to 1,000 subscribers including all features of the free plan and also gives additional things like free migration from another tool, automated funnels & sequences.
Creator Pro Plan
Price- Starts from $59/month (monthly billed),$50/month (yearly billed)
Include all the features of free and creator plan an in addition it gives Facebook custom audiences, newsletter referral system, subscriber scoring, advanced reporting.
These plans are for 1000 subscribers but as the subscribers increase, the price will also change.
Convertkit is really very affordable and the reason behind this they believe the future belongs to creators and they want to help creators like you take projects from ideas to reality.
FAQs
Before using Convertkit, it is natural to ask questions that came in your mind.
Let's talk about some general questions.
Is the Free plan free forever?
The answer is a big yes because there's no credit card required to sign up for a Convertkit free account but you have to manage less than 1,000 subscribers and also one thing you don't have access to any of the features available in the Creator or Creator Pro plans.
Is it hard to switch to Convertkit as I already have an email list somewhere else?
No, it's not hard because Convertkit provides free migrations to any creator moving from other email marketing platforms. For this, you need to fill the migration form so they can get your details from it. After that, you'll hear from one of their migrations experts about your closing date.
What happens when If I don't like ConvertKit, can I request a refund?
Nobody would like that their customers go somewhere else, but yes some things sometimes do not work. No matter if you're on a monthly or annual plan if you realize Convertkit isn't the right fit for you then they will give a refund within the first 30 days of the date when you signed up for your account. The process will take 3-5 days to show up on your credit or debit card account.
In summary
Although there are many email marketing tools available in the market, I found Convertkit is the best tool for email marketing. You must try it if you're thinking of investing or upgrading for email marketing.
If you have not used it yet, then do it and tell us its feedback.
It will definitely boost your business leads!
Read also: SEMrush: an all-in-one digital marketing toolkit for growing your business
Read also: Demio: A webinar tool and effective solution for your business
Comments
2 responses to "ConvertKit: best email marketing platform for online creators"